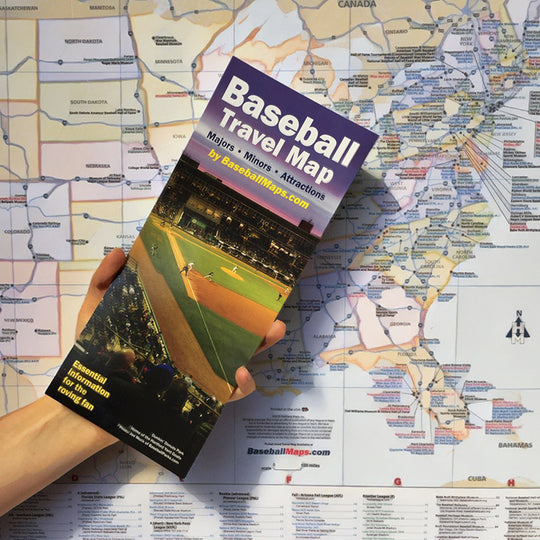 WE SELL DREAMS! The 2018 Baseball Travel Map is available right now!

Hot off the Presses!
We are excited to announce that Hedberg Maps has received the 2018 Baseball Travel Map & Wall Map and they are ready to ship today!
Perfect for planning your trip to visit ballparks from the Minors to the Majors with Independent Leagues and Museums and Attractions as a bonus!  If you're not taking a road trip, the map is still ideal to dream of your future adventure or to just understand the landscape of our national pastime from a big picture perspective.
The fun started in the year 2000 with the initial edition of the Baseball Travel Map, so this year will be 19th edition! It was always produced in an easy-to-fold useful to access the info laminated style, but the content and cover changed every year. Every year except 2016, I think, . . . its a little fuzzy after so many years. I remember hearing about it from customers. It seems people love to collect them and really love that the cover changes every year. We did not make that mistake again. We try to find great photography from unusual places. This year we received several photo options from Joe Mock of BaseballParks.com and selected this beautiful image with a purple sunset and lively action on the field.
This is the 10th edition of the 2018 Baseball Teams & Attractions Wall Map which takes the same helpful information and puts it into a format that looks great hanging on wall.  It is available in two sizes: 26"w x 28"h and 36"w x 38.75"h.
I hope you will check it out!
Tom Hedberg